Dear LBank Users,
LBank now supports exporting Deposit and Withdrawal history. Currently, this feature is only available for exporting from the web page.
Due to server processing limitations, each user is limited to exporting transaction reports three times per day and a maximum of 10 times per month. If you need to export more data, please try contacting customer service. All generated reports do not include data from the current day.
You can export the records here:
https://www.lbank.com/my/export/finance/
Or follow the steps below:
Step 1: Log in to your LBank account: https://www.lbank.com/login/
Step 2: Click on "Wallet" in the upper right corner and select "Spot". Then find "Transaction History" - "Export historical financial record".


Step 3: On the export records page, filter the Tokens (all Tokens by default), select the time range and the transaction types you need. Then click "Confirm" to create the export records.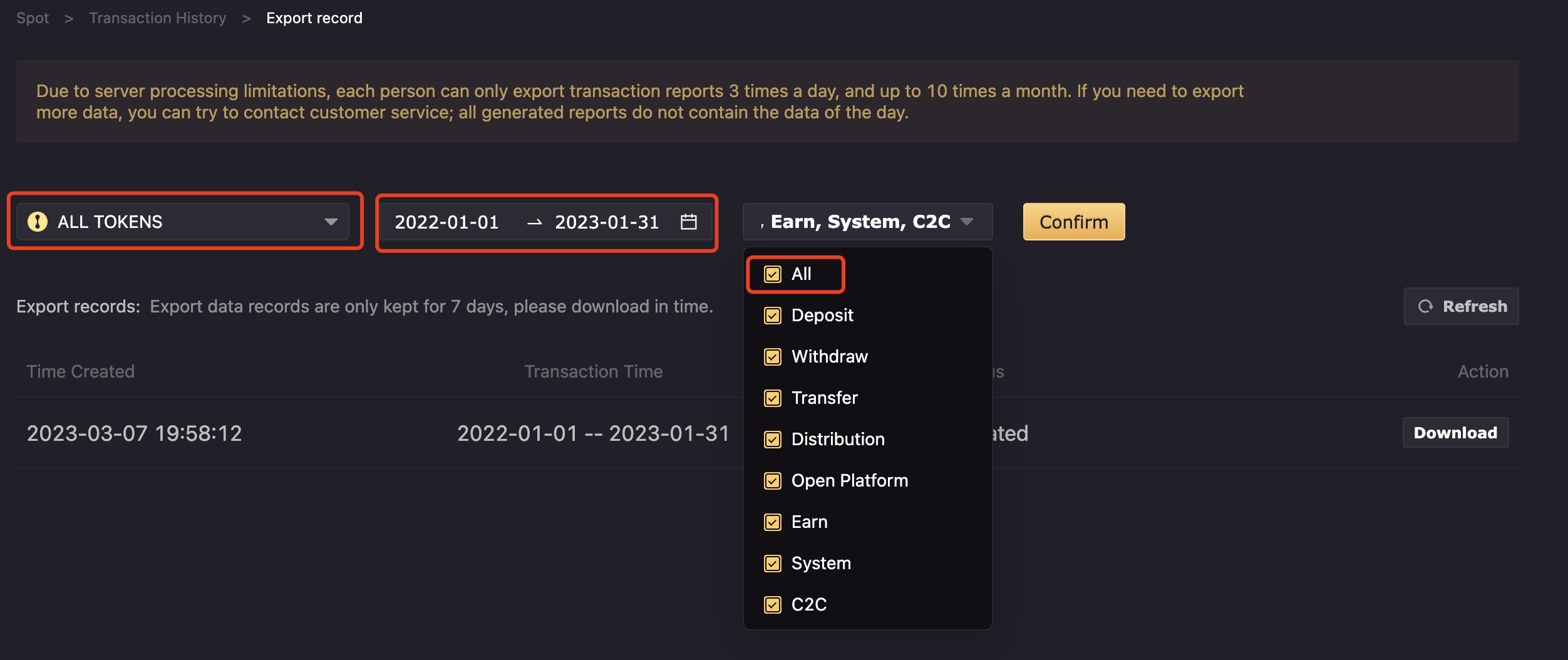 Step 4: Due to differences in the amount of transaction data for each user, the time it takes to generate the report may vary. You can click "Refresh" to check the current status of the report generation. When the system has prepared your report, please click "Download" to save the report zip file to your device.

Step 5: You will receive data including deposit, withdrawal, reward distribution, and Savings interest. The data will be presented in an Excel spreadsheet.
Please note that exported data records will only be kept for 7 days, so please download them promptly.
If you have any questions, please contact our online customer service.
LBank Community
Telegram | Twitter | Facebook | Discord | Medium | LinkedIn
Click here to download for iOS or Android
If you have problems, please contact LBank official email: service@lbank.info, and we will provide sincere, friendly and immediate service. We also welcome you to join LBank official English community to discuss the latest issue (Telegram): https://t.me/LBank_en.
Risk Warning: Investing in digital assets is extremely risky. Digital asset prices are subject to high market risk and price volatility. The value of your investment may go down or up, and you may not get back the amount invested. You are solely responsible for your investment decisions and LBank is not liable for any losses you may incur. Past performance is not a reliable predictor of future performance. This material shall not be construed as financial advice in any case. LBank reserves the right in its sole discretion to amend or change or cancel this announcement at any time and for any reason without prior notice.