I. View profit sharing data
1. Visit the LBank official website and go to the "Copy Trading" page, then click on "My trades";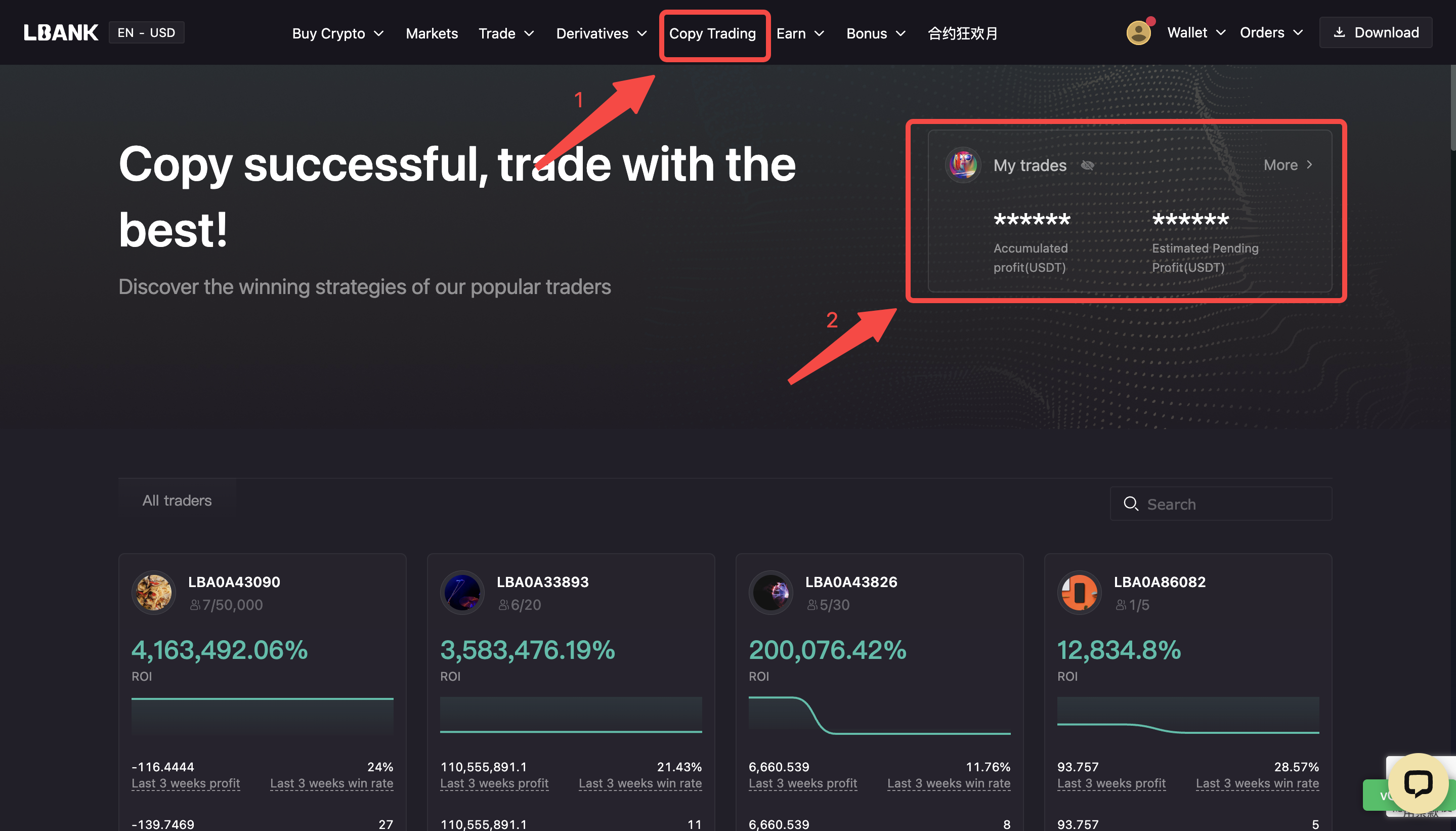 2. Click on "Profit Sharing" to view cumulative profit, estimated pending profit, and yesterday profit;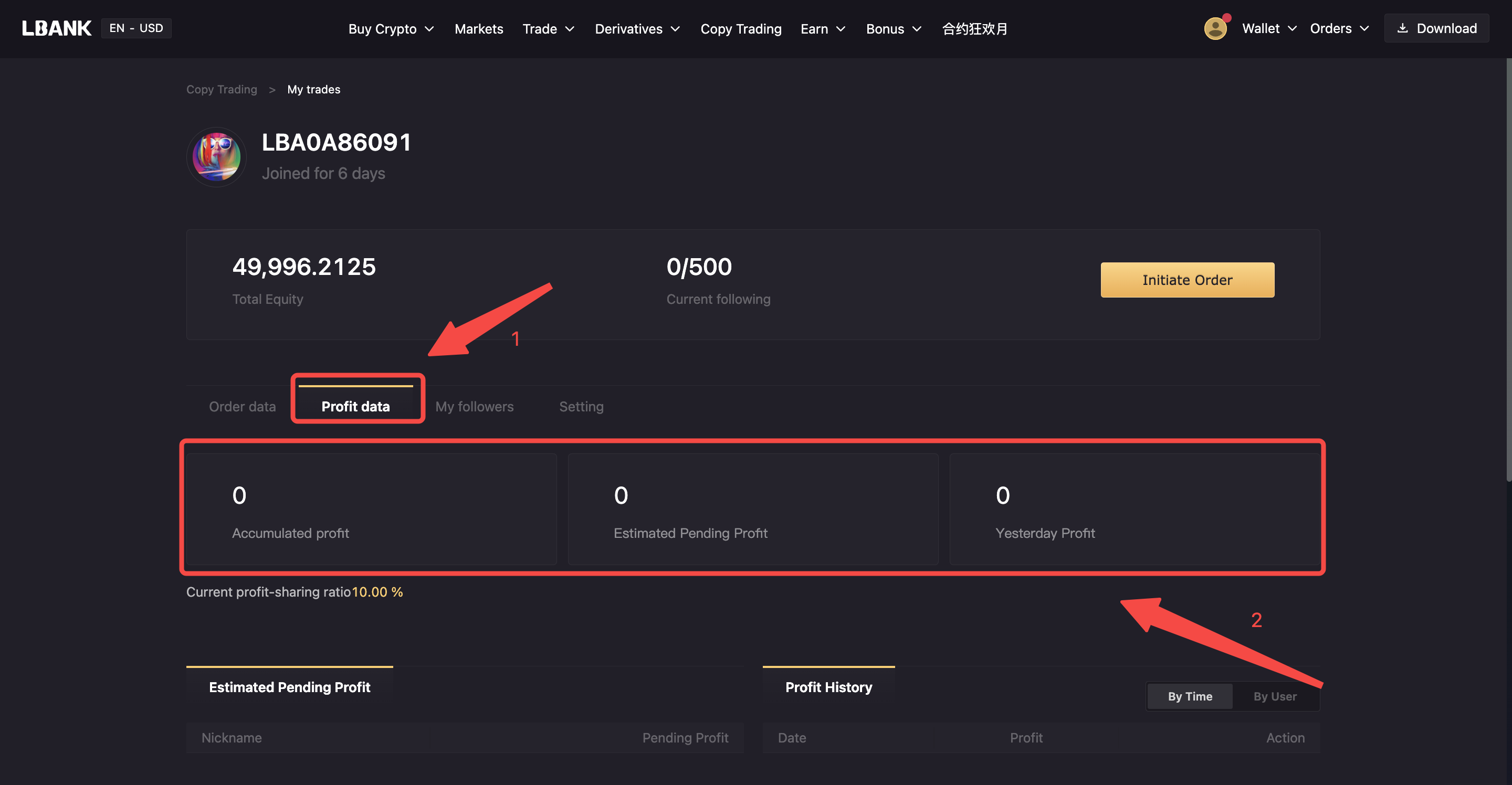 3. Scroll down to view detailed information on estimated pending profit and historical profit sharing.
4. Profit history can view detailed data by time or by user.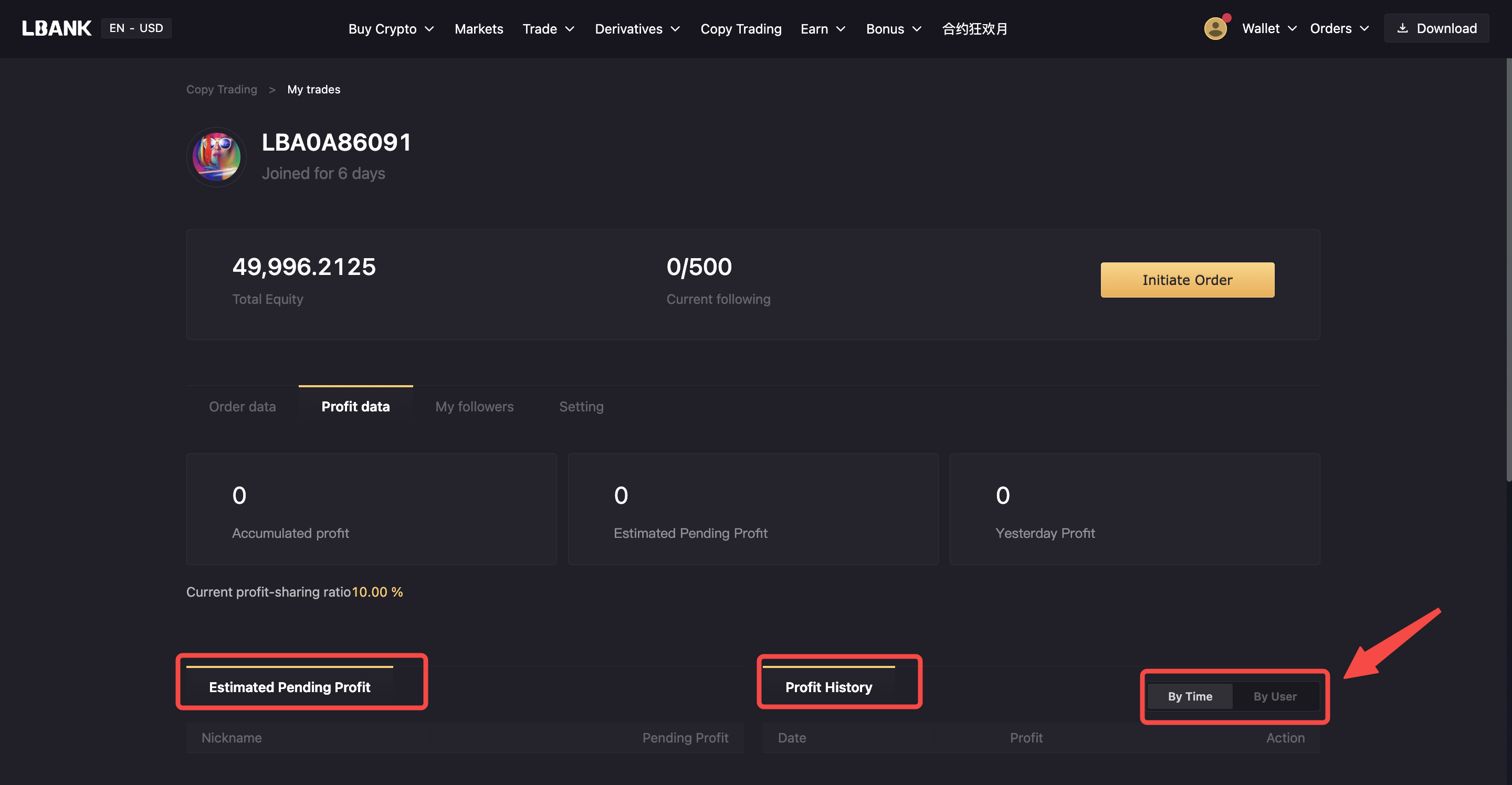 II. Trader profit sharing ratio
1. Trader's Initial Maximum Profit-Sharing Ratio
The maximum profit-sharing ratio a trader can receive directly from their followers is determined based on the total futures equity and can go up to 10% as profit-sharing. Profit-sharing settlement period: daily.
| | |
| --- | --- |
| Total Futures Equity (USDT) | Profit |
| [0,500) | 4% |
| [500, 1000) | 6% |
| [1000, 5000) | 8% |
| [5000,+∞) | 10% |
2. Trader's Actual Profit-Sharing Ratio
Traders can adjust their profit-sharing ratio in the "Personal Settings" within the range of [1, maximum profit-sharing ratio].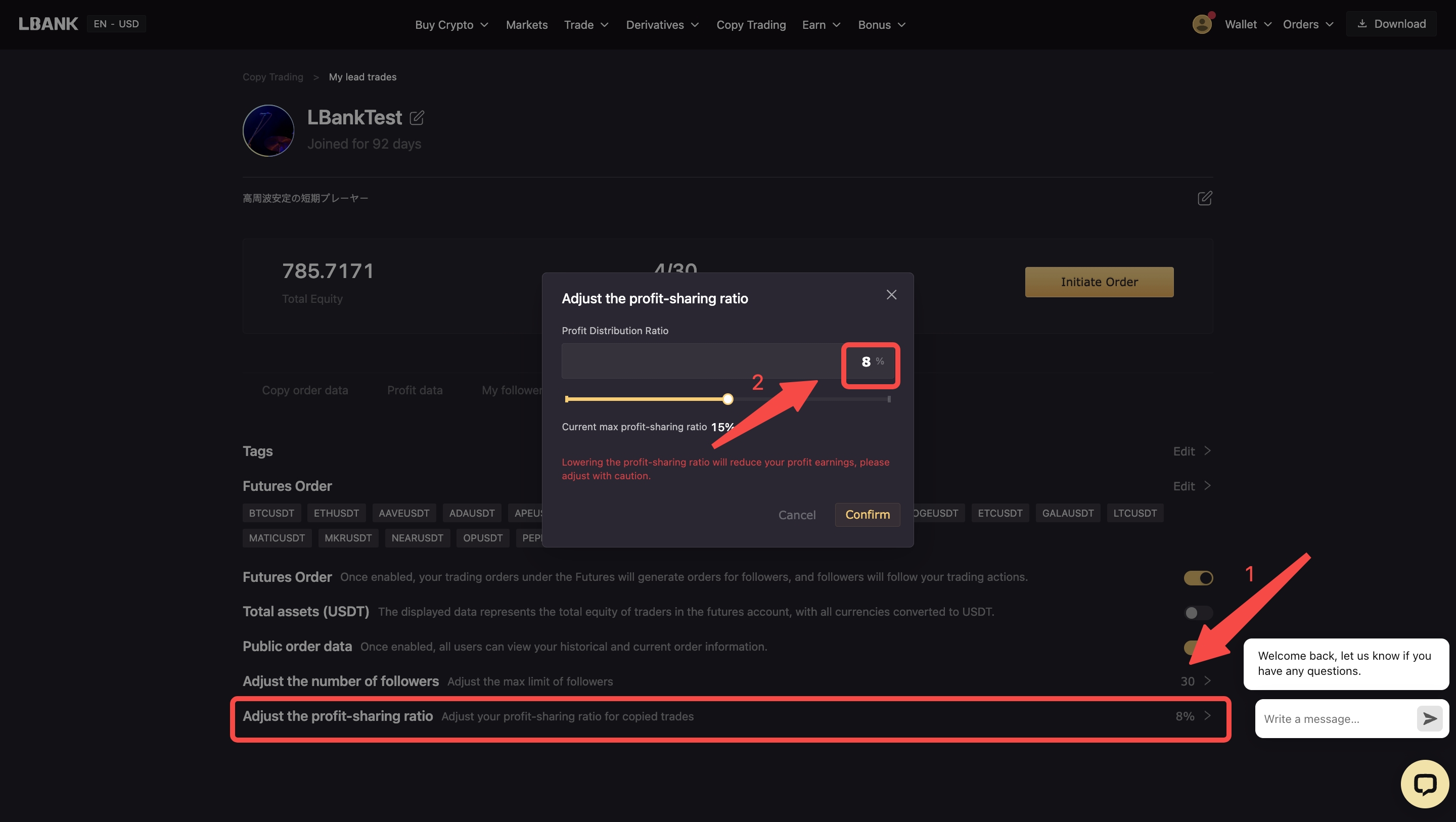 3. Increasing the Maximum Profit-Sharing Ratio
If you wish to increase your profit-sharing ratio, you can focus on copy trading activity.
III. Explanation of profit sharing interface data
1. Accumulated Divided Profits (USDT):
The total profit sharing earned, displayed in USDT. The actual distributed profit sharing is in the same currency as the margin currency used by the followers.
2. Estimated Pending Profit Sharing (USDT):
The total amount of pending profit sharing, converted to USDT. The estimated pending profit sharing is a dynamic value that may decrease when a follower closes a losing trade.
3. Yesterday's profit sharing (USDT):
Settlement is done by the system at 8:20(UTC) daily. It includes the profit generated from followers' closed trades that meet the profit sharing requirements and is paid to the trader.
IV. Profit sharing requirements
1. If the follower is not following any open positions of the trader (meaning all his positions have been closed), the profit to be shared will be distributed the next day.
2. If there are still open copy trading positions, the profit share will not be paid until the last post is closed. In that case, the profit share will be paid the next day in aggregate.
V. Share-profit account
The futures account on which the trader gets a share is the same as the futures account on which the trader chooses to initiate a copy trade.
LBank Community
Telegram | Twitter | Facebook | Discord | Medium | LinkedIn
Click here to download for iOS or Android
If you have problems, please contact LBank official email: service@lbank.info, and we will provide sincere, friendly and immediate service. We also welcome you to join LBank official English community to discuss the latest issue (Telegram): https://t.me/LBank_en.
Risk Warning: Investing in digital assets is extremely risky. Digital asset prices are subject to high market risk and price volatility. The value of your investment may go down or up, and you may not get back the amount invested. You are solely responsible for your investment decisions and LBank is not liable for any losses you may incur. Past performance is not a reliable predictor of future performance. This material shall not be construed as financial advice in any case. LBank reserves the right in its sole discretion to amend or change or cancel this announcement at any time and for any reason without prior notice.