I. To modify trader personal settings:
1. Visit LBank official website, enter the "Copy" page, click "My trades";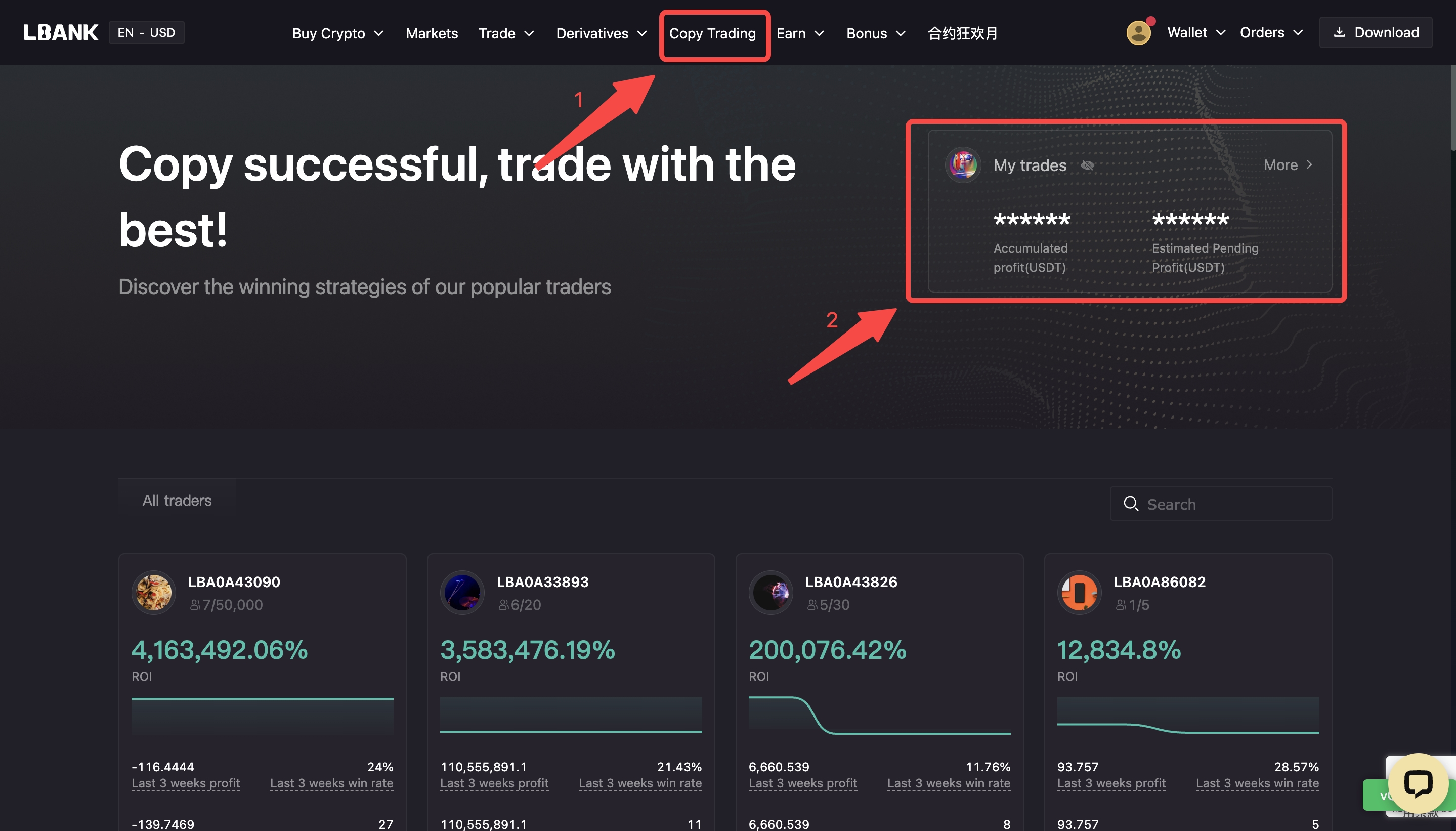 2. Changing Profile Picture: Click on your profile picture, upload an image, and wait for approval to change your profile picture.
3. Changing Nickname and Personal Bio: Click the respective edit icon to modify your nickname and personal bio.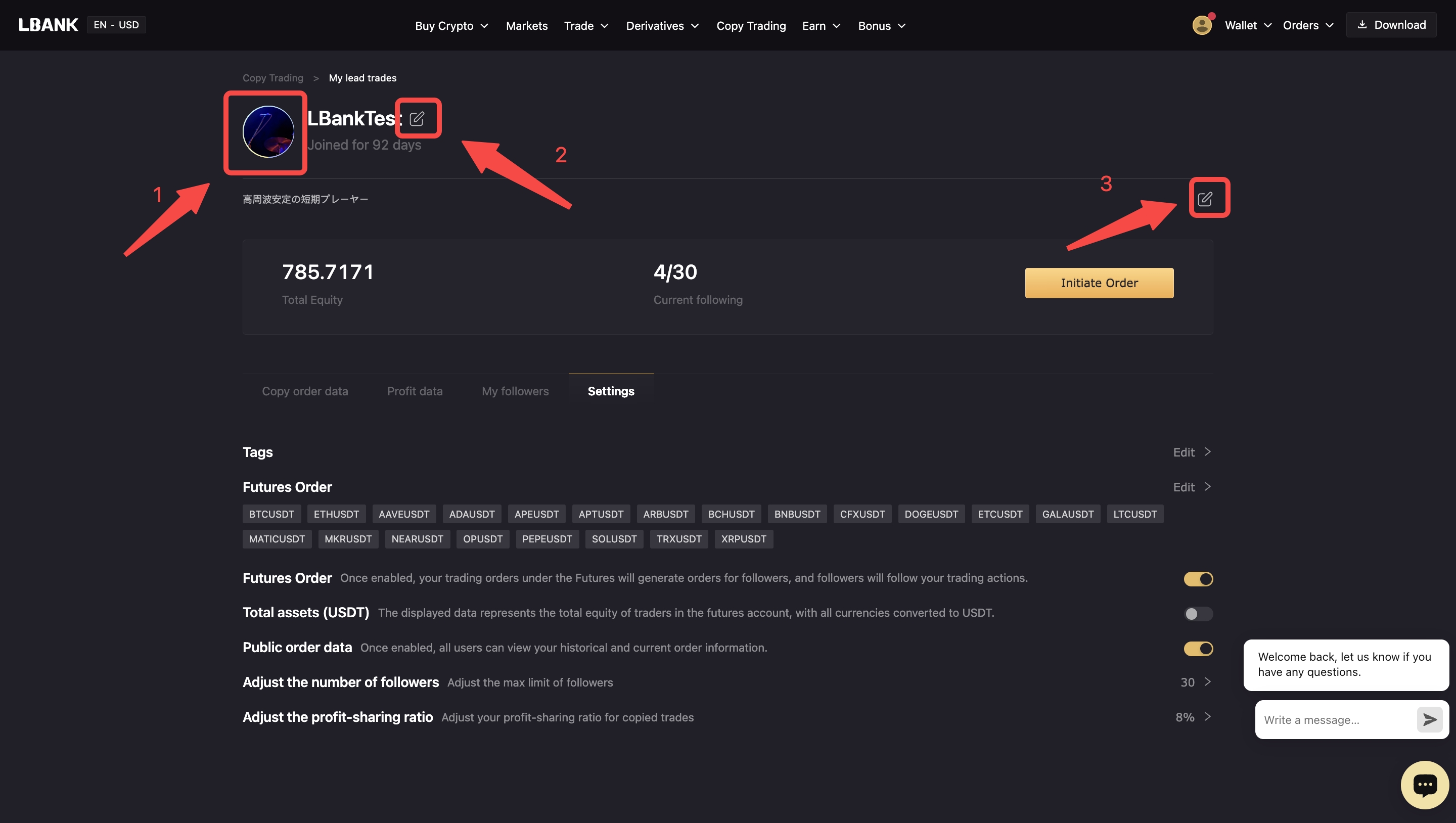 4. Configuring Tags/Futures Order/Total assets/Public order data/Adjust the number of followers/Adjust the profit-sharing ratio: Click "Personal Settings" to edit these configurations.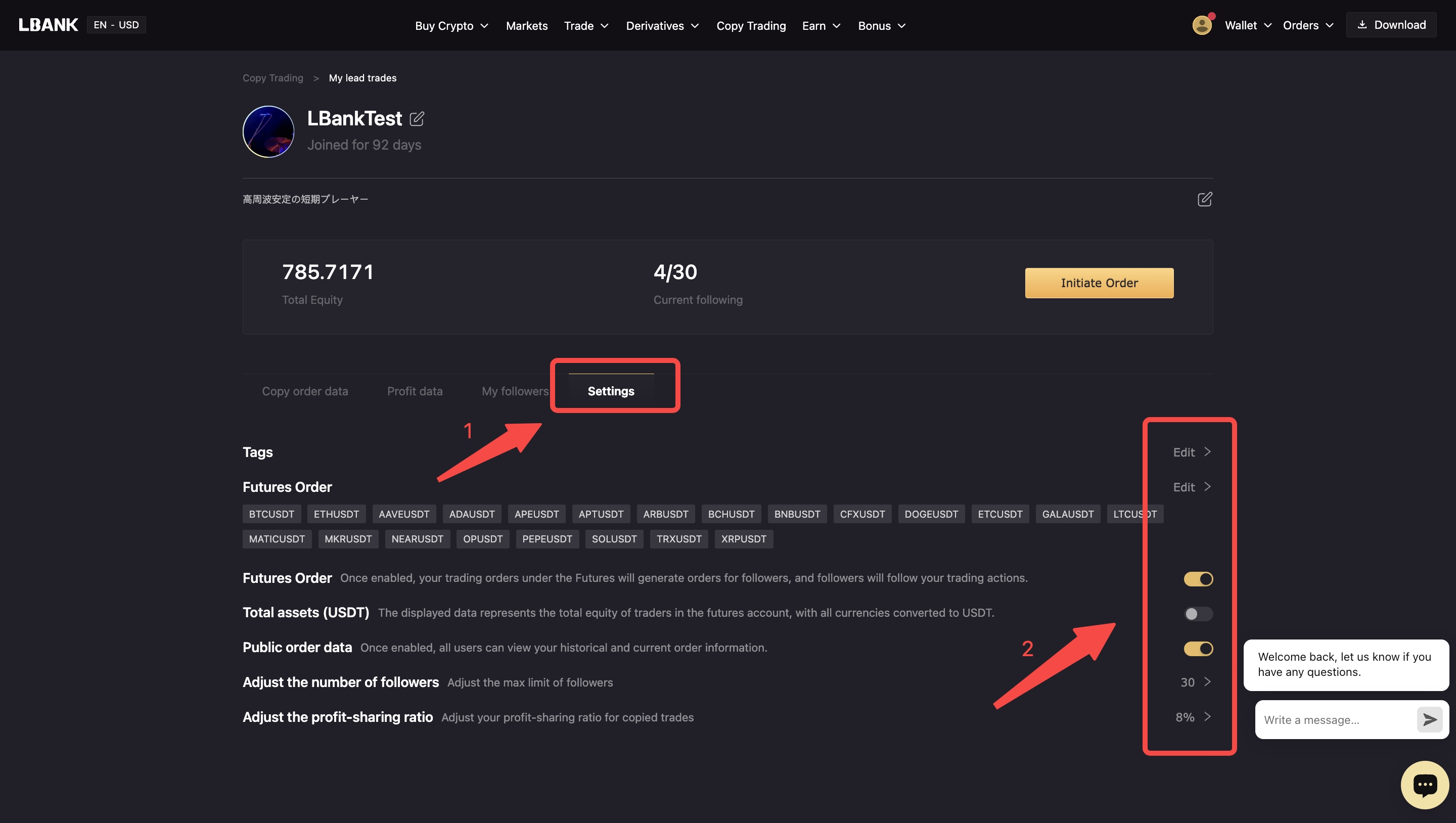 II. Explanation of Trader Personal Settings
1. Avatar:
The initial profile picture is a random image, and any changes require approval.
2. Nickname:
Your nickname is your personal information's display name. The default nickname is your user ID.
3. Tags:
Six tags for you to choose from: High frequency, low frequency, aggressive, stable, short term, and long-term. Need to be manually selected.
4. Futures for copy trade:
a. You may choose all trading pairs shown on the page. "Select all" is the default setting.
b. If a trading pair is not checked, you will not follow the trader when he opens a position with this trading pair.
5. Futures Order:
When enabled, your trading orders in the contract will be copied, and followers will follow your trading actions. It is enabled by default.
6. Total equity
When enabled, your trader page will display the total equity in your contract account (converted to USDT for all currencies). This feature is disabled by default.
LBank Community
Telegram | Twitter | Facebook | Discord | Medium | LinkedIn
Click here to download for iOS or Android
If you have problems, please contact LBank official email: service@lbank.info, and we will provide sincere, friendly and immediate service. We also welcome you to join LBank official English community to discuss the latest issue (Telegram): https://t.me/LBank_en.
Risk Warning: Investing in digital assets is extremely risky. Digital asset prices are subject to high market risk and price volatility. The value of your investment may go down or up, and you may not get back the amount invested. You are solely responsible for your investment decisions and LBank is not liable for any losses you may incur. Past performance is not a reliable predictor of future performance. This material shall not be construed as financial advice in any case. LBank reserves the right in its sole discretion to amend or change or cancel this announcement at any time and for any reason without prior notice.